About the column: This series presents short articles and photo-essays on the industrial aspects of cinema produced from Bombay aka Bollywood. Stories of the making of Bollywood, stars, publicity mechanisms, fan cultures, gossips, costumes, music usage, playback systems, singers, composers, as well as writings by the players and so on. The film industry, however, will be seen through the pointed glasses of women, intricately linking all the narratives of one 'Miss Cinemawali' or the other.
Let us begin the stories of Miss Cinemawali with Mandakini Phalke, who was the actor of the celebrated Dhundiraj Govind Phalke films, especially Shri Krishna Janma (1918) and Kaliya Mardan (1919). While the pioneering role of Dada Saheb Phalke, as he was affectionately called, as well as his inventiveness, and his love for the magic of moving images are much celebrated (also cinematically inscribed by D. G. Phalke himself), one may wonder who really was Mandakini Phalke?
Perhaps, one may enquire naively and wonder, 'was she important'? Well, indeed, she was. She was one of the first Indian 'stars', whose persona seemingly functioned beyond the plot of the film- that is, even within the wondrous and magical Kaliya Mardan, which is a retelling of the mythical stories of young Krishna.[i] The opening sequence of Kaliya Mardan for instance, is an outstanding example of the ways in which her popularity may have worked. While Kamal Swaroop (2007) describes this sequence as an exercise in acting, it is apparent that the shots in the beginning use Mandakini Phalke's charming presence, as she directly and demonstratively addresses the audience, and thereby creates a moment of powerful alienation as well as extra-diegetic spaces, which provoke the following deliberations. [ii]
Kamal Swaroop (2007) in his innovative work on Phalke retells Mandakini Phalke's stories.[iii] "I did roles in two of Dadasaheb's films, Shri Krishna Janma and Kaliya Mardan. In Kaliya Mardan, he gave me the central role of Krishna…" says the 'girl' who once played roles of the mischievous God. "I was only six or seven years old," continues Mandakini Phalke. "Yet Dadasaheb said that only my maternal uncle should do my makeup, no one else. He did not like it if I mixed too much with the boys. He lovingly called me Sonu." Truly, it was not quite simple to be a female actor at the turn of the last century, and many such stories of struggle drift in the public domain. However, we shall deal with that later, in other chapters. Now, let us return to her story; thus, as Mandakini Phalke recalls,
Before actually acting in films, he taught me how to show emotions like anger, love, joy, fear etc. and made me act accordingly. He would do it himself for me to see. At the time of actual shooting, he would do the acting and I would imitate him. When he said, ''Go on,'' the camera would start and I would act out the scene. When he said ''Stop,'' the camera and my acting would stop. However I was not allowed to enter the studio at other times. After I got married at the age of fourteen, my association with the studio became less and less, ….
Consequently, she had a brief career of seven years, from the age of seven to fourteen. Nevertheless, D.G.Phalke's groundbreaking projects are deeply linked with the exuberant presence, gestures, and the overall performance of little Sonu.
D.G. Phalke, presenting himself as the 'Pioneer Cine-Artist of the East'
Presenting his daughter, who is already the 'star' of Shri Krishna Janma.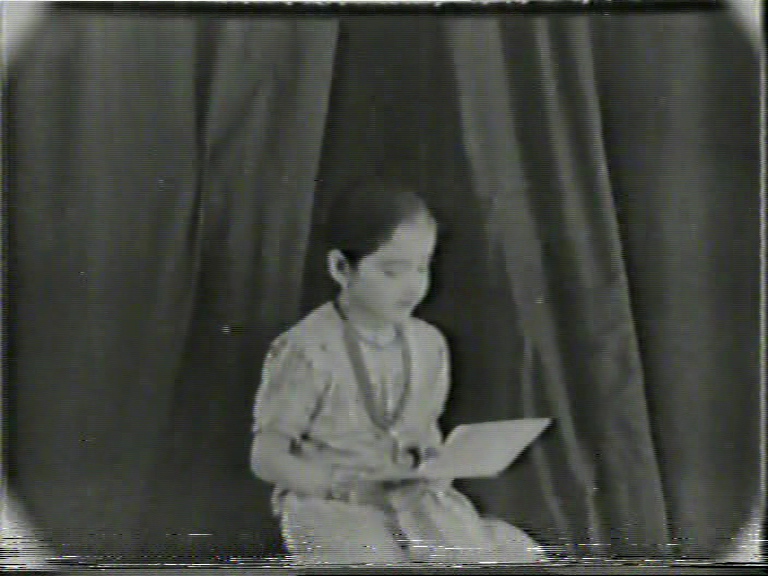 Miss Mandakini Phalke.
Before the film is offered to the audience.
The fantastic dissolve: From Mandakini Phalke to Krishna
Mandakini Phalke performing as Krishna.
Mandakini Phalke performing as Krishna.
And, many expressions of the little girl/Krishna.
Many expressions of the little girl/Krishna.
Many expressions of the little girl/Krishna.
Many expressions of the little girl/Krishna.
Many expressions of the little girl/Krishna.
Many expressions of the little girl/Krishna
Many expressions of the little girl/Krishna
Eventually, the film begins.
In the significant documentary Celluloid Man (2012), by Shivendra Singh Dungarpur, which is on the archiving and P.K. Nair (the legendary archivist and the ex-head of the National Film Archive of India, Pune), Nair narrates how he found Phalkes's films in a wooden box, and in bits and pieces. While the poet and filmmaker Gulzar insists that, the key figure here is Nair, since "Dada Phalke is collected by him and made into history." Nair brings to light the ways in which Prabhakar Phalke, son of D.G. Phalke, told him that, "he has got a wooden box containing some bits and pieces of Phalke material." Eventually, says Nair, he "found out that lot of bits and pieces of Kaliya Mardan film was there…. So it was quite a job to connect it in the order in which Dadasaheb had originally made. …"
While there was one diary (hand written by Phalke) noting the order of the reels and its contents, Nair in time put the present version of Kaliya Mardan together and sought Mandakini Phalke's approval. "I wanted to show it to Mandakiniji," says Nair, "to tell us whether it is the same order."  Hence, while concluding one may raise this pointed question- who is the author of Kaliya Mardan, as we know it? Is it Phalke, whose first version has evaded us forever? Perhaps, it is P. K. Nair, who actually put it together (with reference to Phalke's diary)? Or is Mandakini Phalke, who lived to tell the tale, the 'real' author? Moreover, one must not forget her evocative role in this film, as she lights up the screen with her vibrant performance, and nods at us to convey that we are about to experience a whole new world of gods, peoples and spectacles.[i]
Mandakini Phalke struggling with the make-belief 'Kaliya' snake
Mandakini Phalke struggling with the make-belief 'Kaliya' snake
Mandakini Phalke struggling with the make-belief 'Kaliya' snake
Mandakini Phalke struggling with the make-belief 'Kaliya' snake
Mandakini Phalke struggling with the make-belief 'Kaliya' snake
The triumph of Krishna/Mandakini Phalke.
_______________________________________________________________________________________________________________
[i] Also see Cubitt, Sean. "Phalke, Méliès, and Special Effects Today."
Wide Angle
21. 1 (1999): 115-130. [ii] See Rajadhyaksha, Ashish. "The Phalke era: conflict of traditional form and modern technology."
Journal of Arts and Ideas
14.15 (1987): 47-78, for a remarkable historical analysis of Phalke's style. [iii] Swaroop, Kamal. "Bees Raniyon ka Bioscope."  
Art Connect
1.1 (July- December 2007): 49-67. [iv] Also see Dwyer, Rachel.
Filming the gods: Religion and Indian cinema
. Routledge, 2006.