The actor's tussle with New Theatres over being edited out is instructive of the preconceptions of the studio system, says Madhuja Mukherjee.
First things first. Who was Ratan Bai? Indeed, little is known about Ratan Bai excepting that she is an actor from the 1930s, who played the female lead in films like Yahoodi ki Ladki (Dir. Aga Hashar, 1933) and Karwan-E-Hayat (Dir. Premankur Atorthy, 1935). Furthermore, while after 1935 KL Saigal, her co-actor in the films, emerged as one of the biggest stars of the decade, Ratan Bai disappeared into anonymity. And yet, veteran film historian Virchand Dharamsey (2010, 35) writes that,[1]
"New Theatres productions Josh-e-Mohabbat (1932) and Zinda Lash (1932,) [sic] Aga Hashar's Yahoodi Ki Ladki (1933) and Karwan-e-Hyat (1935) directed by Premankur Atorthy were all Oriental films. Nanubhai Vakil made Yahoodi Ki Beti (Desai films, 1956) that brought back the memories of Yahoodi Ki Ladki. S.D. Narang also remade it in 1957 as did Bimal Roy under the title Yahoodi in 1958."
So, if three different directors were reworking Yahoodi Ki Ladki, in three consecutive years, the plot must have had certain currency in the history of popular cinemas. Moreover, Dharamsey's narration informs us that the lead actors of the film, including Saigal and Ratan Bai, were significant in many ways. Therefore, at the time Ratan Bai got involved in a conflict with New Theatres Ltd, Kolkata, regarding her role in Karwan-e-Hyat—or rather, the absence of it—the tussle did throw light on the studio systems and its preconceptions.



Second, what was New Theatres Ltd? New Theatres Ltd, (NT) was established in 1931 by Birendra Nath Sircar, and eventually became one of the most influential production houses of the period.[2] Making films in both Bengali and Hindi (and in other languages), NT's persuasive power grew out of its well-structured production-distribution-exhibition system, as well as through the kinds of "literary" films they propagated. NT quickly became an emblematic studio, which predominantly produced films for the bhadralok, or the English educated middle-classes. More important, through NT the idea of bhadralok-cinema was instituted.[3] Eminent directors, musicians, technicians, authors and theatre personalities—Pramathesh Chandra Barua, Debaki Kr. Bose, Nitin Bose, Mukul Bose, Rai Chand Boral, Pankaj Mullick, Timir Baran Bhattacharya, KC Dey, Sisir Kr. Bhaduri, Premankur Atorthy, Sailajananda Mukhopadhyay and others—joined the house. Furthermore, Sircar's social positioning (as a Glasgow-returned civil engineer, and son of the Advocate General of Bengal), also the social standing of some of the glorified directors, and their political liaisons (especially with the Congress party) crafted a exclusive status for NT. Nobel laureate Rabindranath Tagore's only cinematic venture, Natir Puja (1932), also took place under New Theatres' patronage, and the popular author Sarat Chandra Chattophadhyay sold the rights of most of his novels to the company. Several well-known actors, including Durgadas Bandyopadhyay, Kanan Bala, Mrs. Durga Khote, Prithviiraj Kapoor et al, became part of NT productions. Chandidas (Bengali, 1932), Puran Bhakt (Hindi, 1933), Meerabai/Rajrani Meera (Bengali/Hindi, 1933), Devdas (Bengali/Hindi, 1935), President (Hindi, 1936), Mukti (Bengali/Hindi, 1937), Vidyapati (Bengali/Hindi, 1938), Dharti Mata (Hindi, 1938), Street Singer (Hindi, 1938), Wapas (Hindi, 1943), Udayer Pathey (Bengali 1944), are few of the most successful NT films.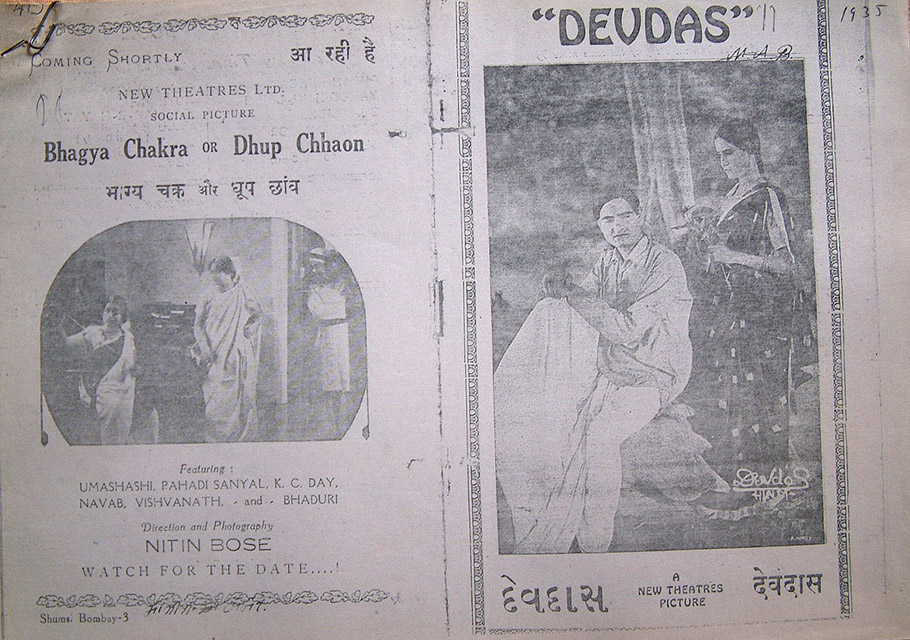 Song-book of Devdas (Pramathesh Chandra Barua, 1935) 
Natir Puja (1932) lobby card
Indeed, NT instituted a specific kind of film-culture through the adaptation of Sarat Chandra Chattopadhyay's popular novels into films. This constituted a particular narrative pattern by bringing forth the 'interiority' of the characters. In reality, NT's popular style, involving middle-class settings, characterisation, verbosity, uses of Rabindra-Sangeet (songs of Rabindranath Tagore) etc., became one of the methods through which it established itself as the "cathedral of culture". Moreover, NT often quoted from Goethe and Voltaire's writings in their publicity flyers.
Nevertheless, while New Theatres intended to produce a particular kind of cinema, a thorough study of its filmography, review of the films, letters to the editor, certain photographs and other publicity materials indicate that NT, in fact, produced a range of films, which belonged to disparate popular genres.[4] While a close reading of its heterogeneity is outside the purview of this note, our study shows how the bhadralok project was after all incomplete, and deeply marked by a plethora of other practices.[5] New Theatres' location within film histories is crucial in relation to Ratan Bai's contestations. In retrospect it seems that Ratan Bai's story, which has been ignored both by New Theatres as well as by our records brings to light the details of industrial conditions, and indicates the variegated issues the actors traversed in order to join the field. In addition, it also illustrates the manner in which actors from different backgrounds and training in performing arts (especially theatre and music) participated in the making of early Talkies.
Third, the point of contestation: Karwan-E-Hayat (1935) the film in concern, is an 'Oriental' tale about a vagabond prince who wanders amongst the gypsies. Ratan Bai plays Zarina, a gypsy girl, who is in love with the prince. The prince, played by Saigal, eventually falls in love with princess, woos her and in time abandons his gypsy friends. The flirtatious prince and his final 'betrayal' appear emblematic in the present context, and seem like an allegory of the 'deception' that Ratan Bai suffered. In fact, Ratan Bai's soulful songs and performance create unique resonances in the film, and make it an important text regarding gender and desire. With reference to this film, Ratan Bai had written an "open letter" to the director and the managing director of New Theatres, enquiring about the editing that had significantly reduced her screen time. The publicity officer of New Theatres Ltd, belted out a contemptuous reply, and actor Ratan Bai responded to it through Picture Play. New Theatres replied to Ratan Bai's discontent through the journal Varieties Weekly. Eventually, Ratan Bai retorted back through Deepali.
Ratan Bai singing her soulful songs 
With Saigal in Karwan-E-Hayat
With Pahari Sanyal
Fragments from the letters[6]
New Theatres' response to Ratan Bai's enquiry:
Dear Sir,
I am instructed by Mr B.N. Sircar to request the courtesy of a little space in your esteemed weekly, in order to reply through you to Miss Ratan Bai, apropos her open letter to our Managing Director, published in some up-country [elite] papers…
Where her complaint of the particular picture Karwan-e Hayat is concerned, she and all those who have worked with her should know very well that every producer reserves to himself the right to make any changes he may consider necessary for the improvement of a picture produced under his banner and such change may involve deletion or addition of certain scenes…
In conclusion, I would remind Miss Ratan Bai that New Theatres and its Managing Director consider with pride the fact so that many of its erstwhile star and directors should have been so eagerly snapped up by other concerns and it seems rather contradictory for Miss Ratan Bai to complain of our Managing Director seeking to ruin her reputation as a star, when it was New Theatres who picked her up as Miss Imambandi of 216, Bow Bazar Street and made of her Miss Ratan Bai of 'All-India' fame. Does it not seem an irony that even now Miss Ratan Bai should be announced as the star of Yahoodi-ki-Larki fame?…
Hemanta Kumar Chatterjee, Publicity Officer.
To the above contentions, Ratan Bai's replied accordingly:
Dear Sir,
The New Theatre Limited's letter of 9th February was read by me with interest.
It is quite evident that Mr Sircar is highly displeased with one or two questions regarding my part in Karwan-E-Hayat. The displeasure can be well judged by the very tone of the letter and various remarks made about me in the same, which has no bearing on the subject matter. My letter was couched in a very simple language, the purpose, of which was to ascertain why my part has been cut in two portions and two characters have been made of my one part. This was a simple question which only requires simple answer…
The concluding paragraph is really very interesting. Mr Sircar has laid much stress on the point that I have been picked upon from Bowbazar Street before which I was a nonentity and from Imambandi they have made me Ratan Bai of all India fame. Did I ever approached [sic] the officials of New Theatres Ltd., to give me a job or they approached me to join their company? I hope Mr Mullick has not forgotten the day he came with the director to my poor abode and his request to join New Theatre Ltd, as they had failed to secure a heroine for Subeh-Ka-Sitara even in Lucknow or other up-country cities.
May I enquire, whether they 'picked up' or not hundreds of persons from Sonagachi, Rambagan, Harkata Gully, Bow-bazar, etc., [Kolkata, red-light area] and how many of them have acquired all-India fame? Was I only made to stand before a camera of the New Theatres Ltd, and down came upon me all-India fame? Do they mean to say that I did nothing in Yahoodi-ki-Ladki? It is so easy to get all-India fame without one having any talent? Can any producer make any successful picture without the artistes doing anything in it?…
Mr Sircar seems to be carried away too far in his hatred towards me to indirectly throw hint on me to be of low birth. It is true that I do not belong to that social status as he is, but there is no reason why I can't be an artiste with talent. I may not be in the film line longer than Mr. Sircar, but is that an answer to my letter?…
Yours faithfully
(Sd.) RATAN BAI
And finally, where is 216, Bow Bazar Street? In time, Ratan Bai's letters provoked me to initiate the project of finding "216, Bow Bazar Street". With the help of Sulakshana Biswas and her friend we explored the city; though, eventually we arrived at a hollow pit of memory in which only some dirty marks on the wall seemingly bore traces of an unaccounted past. The actual 216, Bow Bazar Street became a missing link, lost in the labyrinth of historical transformations. Moreover, the project also questioned the materiality of history, and enquired what constitutes an acceptable historical material, and method? Especially in the case of NT, which has been described as a bastion of the bhadralok, new archival material as well as alternative projects highlight the problems of our historiography and produce a complicated account of cinema and culture. It also draws attention to the manifold layers and subtexts of our socio-cultural everyday, and suggests that history of cinema cannot be perceived as a fixed object or as an album of uninterrupted records.
219, Bepen Behari Ganguly Street (erstwhile Bow Bazar Street) 
But, where is '216? 
A labyrinth of memory
And, marks of an unaccounted past 
Searching in the dark 
And, a new 'everyday'
Note: The letters are part of the author's forthcoming anthology. The Natir Puja image comes from the research done towards the Exhibition 'Cinema and Technology in Bengal' (2013) executed under The Media Lab Project, Jadavpur University. She is indebted to Sulakshana Biswas and Sumit Sikdar for the photographs.
_______________________________________________________________________________________________________________
[1] In "The Advent of Sound in India: Theatre, Orientalism, Action, Magic". The Journal of the Moving Image. 9: 22- 49.
[2] See Madhuja Mukherjee. 2009. New Theatres Ltd., The Emblem of Art, The Picture of Success. Pune: National Film Archive of India, Pune.
[3] Also see Sharmistha Gooptu. 2010. Bengali cinema: An other nation. New Delhi: Roli Books.
[4] See Madhuja Mukherjee. 2011. "Bengal Elephants (in blues and greys): Revisiting the meandering course of the studio era." Journal of Creative Communications 6. 1 & 2: 149-162.
[5] Also see Rajat Jayanti (Dir. P C Barua, 1939) for a critique of Bhadralok cultural preoccupation.
[6] These letters are excerpts from the forthcoming anthology Voices and Verses of the Talking Stars, The Women of Indian Cinema and Beyond, Stree: Calcutta, edited by Madhuja Mukherjee.