This month Neel Adhikari raises a toast to girl power.
The age old mindset of –"Noo my daughter will not sing in a bar!!" followed by the sound of glass crashing against a wall – might sound familiar to a lot of could've been singers and musicians. I hate to say it, but a lot of those people had enough talent to blow the glass ceiling off this scene. Traditionally, the Lata Mangeshkar route has been the only socially acceptable one. Every scene has to have a few luminaries who bring art into the realms of culture. However, more than anything, it's the passage of time that does that. Henry Miller, Charles Bukowski and Irvine Welsh are culture, however sexual, trashy or druggy they might be. French writer Jean Juono says in an interview, 'anti-literature is an excuse to write literature' but that's the deep end of things. We're just talking about a few women standing in front of an audience and using a microphone to air their thoughts without social compromise via the medium of music. Somehow I feel in our current social scenario this is what we need. Like a vaccine from male rot. Let's see what they have to say.
JAYSHREE SINGH. Frontwoman,Skinny Alley, PINKNOISE.
A lot of musicians here and all over the country treat you like a godmother. Does it tire you or do you embrace that role?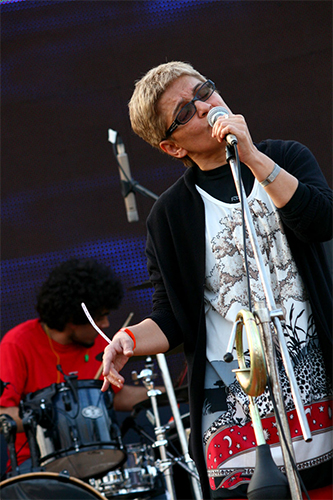 Surely you mean "grandmother"? But if you're asking if I enjoy being with young musicians and sharing in their journeys, I feel I am truly blessed to be part of that…..
How has the playing and performing of music changed since Gyan (her husband and the famous rock musician and bassist of Skinny Alley) passed away? How is PINKNOISE and Skinny Alley performing now? 
I don't even know how I can answer this question. It's not just the music that has changed, my entire life has changed… right now, I am just trying to deal with that…I do the gigs that come my way but haven't really thought of the future direction of PINKNOISE and Skinny Alley.
As a woman frontman (pardon the oxymoron from this moron) who was cutting the scene in the 80s, how have things changed for women in bands? Were there any all- girl bands then?
No, there were not that many women in bands. Hey, there were not that many bands! And somehow I never thought of myself as a "woman frontman"… I was just another musician in the band… I love the way things have changed… women are dressing up to highlight their femininity and their strength… I just wore torn jeans and generic tees! That's not the only change, of course… women are writing their own music more and more and there are so many women in bands and doing their solo things today who I love and respect….they inspire me with their fearlessness and fragility. Love you, my ladies.
Cheyyrian Bark . Frontwoman. The Vinyl Records.
What are the social pressures of being the front woman in a post punk band? Does this change the way you live?
I always see the positive side of my music and the positive outcome of it, whether music or job you always have pressures and negative comments from the society. I would rather be on my own and be proud of my band doing what I want. Being the front girl, I take pride and honour for my post punk music and enjoy it to the fullest. The way I am is the way I live. Music is god. Thus I fear no harm.
Recording the first time is often painful, like seeing a musical mirror for the first time. How was your experience?
Yes, recording was a pain in the ass indeed, but we did learn a lot from it, like giving more time to the whole process and will be more careful the next time around.
Is it hard to keep an all girl band going? Do you fight over issues and resolve them?
Yeah! We've had our own share of ups and downs and differences but the common love for music we share has helped us overcome them.
Three of you are from Ita Nagar and you are from Guwahati. Is living in Delhi hard? Is the Indie scene happening there? What's your take on Delhi?
Living in Delhi is hard sometimes, but it also gives us a sense of freedom to pursue our music. We have a very love/hate kinda relationship with the city, but we do mostly love it.
Suyasha Sen. Frontwoman. Ganesh Talkies. Plastic Parvati Project.

The move to Delhi was a daring one. How's the city treating you and how do you plan to continue with Ganesh Talkies? 
The decision to move to Delhi was a tough one but it's only a temporary thing. I've been coming down to Kolkata on a regular basis and we're working on new material. It's difficult and exciting at the same time because the music scene in Delhi is completely different from what I've been used to and change, sometimes, is a good thing.
We're recording songs for the next EP, which is a dance based one and apart from that, we're still doing live gigs just like we would.
What's up with the Plastic Parvati project? 
The Plastic Parvati Project is an experiment where I make these mostly unfinished songs.
I use my phone (and sometimes my laptop) to make these pieces. I wouldn't call them songs, but rather a collection of thoughts and ideas. Being a part of a band that makes its own music, I realised that it's not enough to just sing and write lyrics. Even though the songs are filled with technical errors at times, PPP helps me learn things about producing an entire song through trial and error.
A lot of girls these days sing beautifully, but just that. I don't want to be a great vocalist; I want to be a musician. The Plastic Parvati Project helps me do so.
As one of the few women in the Indie scene, what changes would you like to see that would kill this sausage party? 
We need more women in the indie scene. While veteran front women such as Jayashree Singh, Monica Dogra, Suman Sridhar, Tipriti Bangar (how do you spell her last name?) have paved the way for the younger lot, artists such as Sandunes, Vasudha Sharma and The Vinyl Records are hopefully inspiring other girls to not just sing but to take up an instrument as well while they're at it.
The sausage party will only end when more girls start playing music instead of sitting back at home and cribbing about how the music scene is a male-dominated one. Ganesh Talkies, with its current lineup is almost a year old and if I can pull it off, a lot of other girls can too I'm sure!
What's next with Ganesh talkies? 
Ganesh Talkies is in the process of recording a dance EPA, as you know, with Miti Adhikari and you on the production front. Apart from that we're playing at the nh7 Weekender Festival in Kolkata this year. Folks in Mumbai may get to see us live sometime soon though.
We'll continue with this mode and hear what the feminine side of this Indie scene has to say. The collective yin might inspire the yang to lose the 'yahoo' and embrace the art a bit. Cheers.