Epsita Halder takes a photo walk through the Hussaini Dalan in Dhaka, and brings to us alluring snapshots of the Imambara.
"In old Dhaka, you will find the Shias," said Mafidul Kaka, my guardian in Dhaka, while handing me an impressive reading list. "You should go to Mirpur and Muhammadpur as well."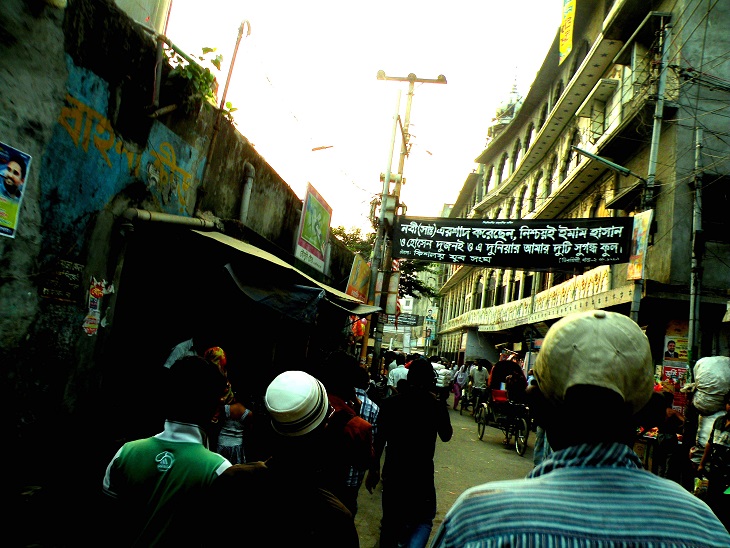 Road to Hussaini Dalan
It was an afternoon in November 2012, when I left the Dhaka University library in a rickshaw to go to Hussaini Dalan, the city's biggest and oldest Imambara. After several twists and turns, the rickshaw took the definitive right turn to Old Dhaka as the sides of the streets, spilling with shops selling metal, oil, grocery, clothes, plastic, tin and sweetmeats seemed to swoop down on me. Houses were rickety, bent towards each other in complex geometries with their jutting out frames. Where concrete got drab and suffocating, colourful rickshaw horns screamed out in protest, whizzing by like a kaleidoscope in fast-forward, giving an illusion of a technicolour effect in a dull, early winter cityscape. Women wrapped up in chadors were getting down from the decorous devotion of some of these rickshaws where 'Bismillah Rahman ar Rahim' and 'Siraj Chishtiya' together were painted in the backdrop of exotic gardens, birds chirping at the sun rising from fantastic white-blue snowy peaks. I could feel my heart thumping inside in anticipation.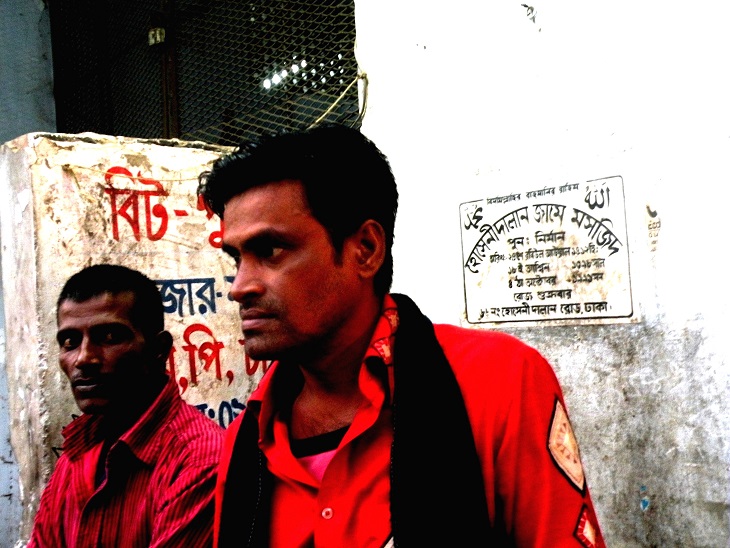 Waiting in fornt of the Mosque
Finally, my destination. Amid the narrow strip of sun slanting here and there, the open kitchen fire crackled, heating a big cauldron of oil. Big black banners overhead displayed the familiar words of the Prophet that Shias pronounce to claim authenticity. 'Ami jaar maula, Ali tar maula'.
"Man kunta maula, fa Aliwun maula, isn't this the Aarbi (Arabic) version of what the banner says?" my enthusiastic query met the expressionless face of the rickshawpuller. Reluctantly, he showed me Hussaini Dalan to the right. Not to be crushed, I asked him before getting down: "Jabbar Bhai, apni Shia na, tai na? (You aren't a Shia, right?)." He nodded. I praised my intuition. I can face-read a stranger's sectarian identity correctly!
Hussaini Dalan, as the rickshaw puller had showed, was a mosque with its upper storey of several framed windows. "Wait a minute, this is a mosque. Where is the Imambara? Hussaini Dalan is an Imambara," I persisted. "I don't know anything about the Shias, Apa (sister). Allah only knows what they do here," the rickshaw puller answered reluctantly, his vehicle, painted with bright flowers and stylised calligraphy 'Allahr Doa', mercy of Allah, getting lost in the bustle.
I found myself amid a crowd engaged in the preparation of a ceremony. Opposite the mosque, a man displayed an array of plastic bowls with pickles in front of another black banner tied to iron railings that proclaimed "the makeshift market of Muharram should not go beyond this line". The railing fenced an open space with makeshift shops and a big entrance behind. Curious, I stepped in and saw a huge blue and white building behind the grilled gate at a distance. A magnificent building with glowing white and blue tiles appeared as I crossed the gate and took the bent of the road leading to the staircase of the house. Hussaini Dalan. I recognised almost intuitively.
The Pickle Seller
Imambaras are generally architectural sites where Shias express their grief over the martyrdom of Imam Hussain, the grandson of Prophet Muhammad. In 680 AD, Imam Hussain was killed in the battle of Karbala with his small band of army which the Shias identify with. Every year, through the commemoration of collective grief over the loss of their Imam in the ritual of Muharram, Shias validate themselves as a community.
I followed men, women and children who left their shoes with a man outside the Imambara. If I need to recollect, I could relive my pleasant shock as my feet touched the cool tiles as I stepped inside. I walked under the glass domed lampshades hanging from the high ceiling which would be lit in the evenings to shine over the glossy tiles and glint on cheeks of teary-eyed men and women lamenting over Hussain's martyrdom. The blue tiled interiors of Hussaini Dalan emanated a transcultural entanglement; a network of visual materiality and affect. Silently sitting at a corner of the huge hall, I observed how the preparation of lament engulfed each and every person gathered there with a collectivity of affect. I was amazed at the shades of blue; tiles of glistening aquamarine and turquoise with Hadis quotations in white and black Arabic calligraphy that travelled all the way from Arabiyya and Persia to get a home in Old Dhaka. How magnificent was the process of travel, how noble the everlasting grief and how mundane the women and men under the huge sacred dome with thick dark limbs and cheap polyester clothes.



Women entering Hussaini Dalan
This was time for the women's majlis to begin and women were pouring in in groups, doing ablutions, praying in silence and simply sitting together for a chat. As it happens everywhere, at every Imambara that I visited in the corners of West Bengal over the last four years, activities within the sacred become a connect between sublime emotion and trivial action. Sacred sites attain a broader habitable value with respect to the Shia social network. Hussaini Dalan became one too, right before my eyes. I looked at the figures and movements of women and was amazed to see how, within the caverns of the sacred site at the core of the Imambara complex, mundane bodies and expressions were infused with something. Something beyond the tactile world.
 Pak Panjatan
Since mid-nineteenth century, as an effect of reformist Islam, there has been a sectarian drift between the Sunnis and Shias in Bengal. Since then there are attempts by majority Sunni communities to negate the Shia devotion based on physical and affective ecstasy of mourning with ritual relics like alam (the flags of the sacred figures of the Shias), pak panjatan (a relic made of silver to symbolise Prophet Muhammad, his daughter Fatema, her husband Ali, and their sons Hasan and Hussain) and taziyeh (which denotes the coffin of Imam Hussain in Bengal). In the chamber next to the hall, these sacred relics were kept which would be out in the procession of ashura (10th day of Muharram) to commemorate the martyrdom of Imam Hussain. As a preparation for the climactic day of loss and lament, like everywhere else, in Hussaini Dalan too majlis takes place to remember the tragic events of Karbala where a zakir narrates the event episode by episode to induce emotion in his audience to lead them into an affective trance of mourning. Sayyid Ibrahim Khalil Razavi has been the official zakir of Hussaini Dalan for the last 10 years.  I asked a woman, Marjina Bibi, who just finished her prayers, about the taziyeh, tajiaa, as it is pronounced in Bangla. "Full of marigold, you almost can't see anything else." I had seen white flowers, spider lily in Lucknow and Rajanigandha (tuberose) in different parts of West Bengal as the decoration of tajiaa, but did not expect flaming yellow and orange marigolds as flowers of mourning. Marjina Bibi continued: 'To your left, in the next chamber, nawabs used to sit during majlis sessions." In what language did they recite? "Bangla?" Marjina Bibi wondered. Her companion Afsana Bibi said: "Must be Aarbi (Arabic) as they all were sharifs."
At Prayer
I came out, collected my shoes and stopped at the doorway to talk to Asgar Ali, the bookseller. A young man in late twenties, he was eager to speak to a researcher from 'India'. He displayed books on the legitimacy of Karbala, biographies of sacred Shia personages as well as amulets and posters with the promise of Allah's barqat (blessing). He was impressed with my camera. Recounting the history of Hussaini Dalan as a self-appointed guide, he said: "In 1642, when Mughal power was declining, people were taking much interest in performing matam during Muharram. The rulers were Sunni, yet they understood the relevance of lamenting over the death of our Imams. Lament and tears clear up the soul."
"Do you have Muharram in India?" a bystander, Sirajul asked. "Yes, very much so," I nodded. "Don't you feel that it is right to cry over a dear one if he or she leaves us?" "Yes, quite so." "Then, isn't it right to cry over the deaths of Imam Hussain and other martyrs? Do you think the same way as others think in this country?" I stood in silence. How can I respond to such big question that troubled so many? "I'm not eligible to answer this," I shook my head and got a few books packed from Ali's shop. As I left, the small audience that I'd acquired dispersed. A blind beggar chanted a marsiya, a boy lunged towards my camera and then posed his right palm, almost mid-air, as pak panjtan, women rushed in, the banner with sacred words swayed between two houses on the two sides of the lane.
Asgar Ali told me, it is written on the wall from one Hadith that as Imam Hussain was martyred hungry and thirsty and was matted with dust, one needs to imbibe that to remember his pain.
Suddenly I understand why marigolds.
Collective lament, while cleaning up the soul, makes room for other kinds of entanglements meaningful in the bigger, everyday context of the Shias. Ritualistic gathering forms social bonds; mourning becomes an occasion for a lightness of being that can gather blessings from words printed on cheaply laminated paper, taste a sweetmeat or savoury. That's why only marigolds, plump orbs in bright yellows and oranges, but soaked in ritual tears, will do.
The outer courtyard was crowded as the makeshift shops started their business now. Deep fries sizzled and crackled in wait for people who would break their fast after the majlis. Plastic dolls, fruits, china clay utensils, enamel pottery were being sold with calendars and sacred posters. I bought a barqat poster with sacred chants in Arabic costing Rs 10 which promised sure success if hung inside the shop, office or inside one's home or any kind of property.
 Women after Majlis
Yes, now they narrate and recite in Bangla and you will find lots of CDs and DVDs both in Urdu and Bangla at a roadside stall lit up with blue fairy lights. People watched an Iranian tele-serial on the battle of Karbala on a small TV in one crowded corner. I bought some CDs of a Pakistani elegy-reader quite popular in the Shia quarters of West Bengal too. Nobody had heard of Bacchu Bhai of Bangladesh whose marsiya CD I heard in a dark evening in a village in West Bengal. Nobody had heard about people reading elegies in Bengali in India. Nobody heard about Bacchu Bhai whose CDs were imported to a neighbouring country.
Through the Makeshift Shops
Yes, now it's time to find Bacchu Bhai, maybe in other town, in some other majlis. To know how his voice crossed the border and started reading elegies on a cheap imported recorder in the backwaters of North 24 Parganas. But that's the story of another journey. An ongoing quest, if the reader permits.