"Darkness cannot drive out darkness: only light can do that. Hate cannot drive out hate: only love can do that." – Martin Luther King.
In a land divided and torn by racial tension, love still manages to find a way through, discovers Devjani Bodepudi.
The North-East of India juts out precariously into the borders of China, Bangladesh, Myanmar and Bhutan. It consists of the Seven Sister States of Meghalaya, Assam, Nagaland, Tripura, Arunachal Pradesh, Manipur and Mizoram and more recently, Sikkim. Its diversity, then, is of no surprise.
The land, itself, is undeniably beautiful, with rolling emerald hills and pristine sapphire lakes. The clouds skim the treetops in familiar greeting and all looks calm from above.
However, travel a little deeper and tension lurks like a seething snake. 'Tribal' against 'Non-tribal' is an age-old battle, ever since the Bengalis arrived with the British in 1874, it is said.



The 'tribals,' mainly of the Khasi and Jaintia tribes, call the Non-tribals, mainly Bengalis, 'dkhars', and the 'Non-tribals' shout 'chinki', in return. The memories of certain generations of Bengalis release mutterings of riots, curfews, oppression, unfairness and bigotry.
There is a dwindling non-tribal population, of late, according to the 2011 Indian Census, from 20% in 1971, to 13%, and the exodus, some people feel, is because of  'being denied rights in one's own land' with the Meghalaya Land Transfer Act 1971.
As I was growing up, I heard my parents speak of a riot in the late 70s. It was the second night of my parents' marriage and the house was filled with guests. My father said he could hear the screaming coming from the streets as they sat in the dark with the shutters firmly closed. He mentioned being forced to ignore the incessant knocking on the door as someone would sit holding a sickle, with their back against the wall, in case…just in case! According to the locals of Shillong, riots and curfews would spring up like this, often, and for no discernable reason.
Sanjoy Das, a local taxi driver in Shillong, spoke of how some Bengali boys would seek out 'Tribals' to beat up. 'How dare they try and intimidate us?' is what they thought as they punched and dragged and kicked and spat, with his friends. "Beating 'Khasis'" was a proud pastime when he was younger.
During a recent visit I was able to speak to two couples who had met, fallen in love and had made a life for themselves, all set within the backdrop of racial tension and strife.
Surojit Datta and Miracle Rose Khonglah met in a government office. Miracle was working and was already well acquainted with Surojit's father and brothers. The exact minutae of their actual first meeting seemed lost to them both, as they lovingly bickered about the details.
Miracle is from the Jaintia tribe and she is an active member of the Christian Presbyterian Church community, whilst Surojit was a Hindu Bengali whose family had settled in Shillong, long before the influx of refugees from East Pakistan during the partition of 1947. Their backgrounds were seemingly too different to make a marriage work. A love marriage would have been frowned upon anyway, in the wider Bengali community, let alone a love marriage to someone outside one's own faith.
"My parents were very liberal," said Surojit, when asked about this. "They did not have a problem with it."
Miracle's mother also did not mind, as interestingly enough, she had married a Bengali man, herself. What seemed important to her, however, was that financially and socially, they both were on an equal footing, so they had some common ground, at least.
I asked them whether they were unique in their situation and Surojit and Miracle both shook their heads, "No, it happened a lot!"
"But I was very lucky!" interrupted Miracle, "My in-laws were very understanding. Not everyone had it so easy."
The couple had a civil ceremony and Surojit converted to Christianity although he still upholds many Hindu practices. Their three children are equally versed in both ways of life, with them switching between Khasi, Bengali and English as easily as switching channels on a television. There is no racial tension here.
Travelling further north, through winding roads and past ramshackle dhabas, I come to the sleepy town of Jowai, nestled snugly in the Jowai Hills.
We come to a stop on a steep incline and I walk down countless, uneven stone steps, leading to a house, which overlooks a breath-taking view of babbling brooks, streams, and those ever so verdant hills.
I am greeted enthusiastically by about a dozen faces, all introducing themselves and kissing my cheeks in welcome and I am surrounded by rare warmth in the normally cool Meghalaya climate.
The heads of the family, Bratendra Kumar Choudhury and Nightly Bonnie Khonglah (no relation to Miracle Rose Khonglah) tell me their story, surrounded by their enormous clan.
Unlike Surojit and Miracle, the couple faced "stiff opposition," in Bratendra's own words.
In 1963 Bratendra came to teach in a college in Sokha Village. There, he met Class X student, Nightly Khonglah. Soon after, a few private lessons later, the couple fell in love. They kept the affair a secret until Bratendra's brother-in-law paid a visit to Nightly, whilst Bratendra was out. He then shared the news with the rest of the family.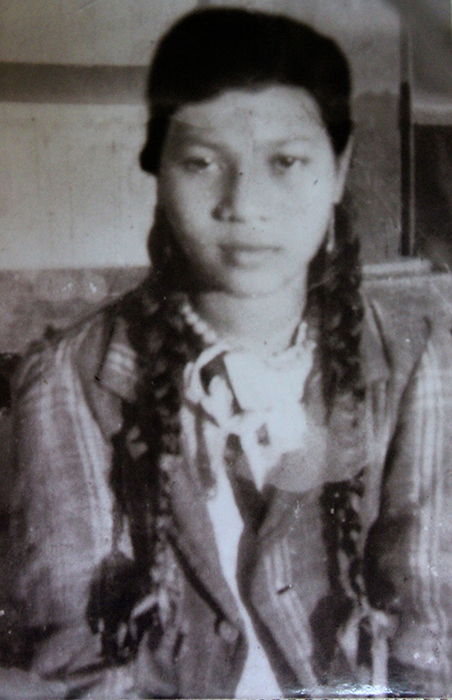 Nightly in class VIII
Most of Bratendra's family were dead against the idea of a Jowai tribal girl and their son tying the knot. However, with the support of Bratendra's sister's husband, the family was persuaded to welcome Nightly into the fold.
"She completely won us over with her warmth," says Bratendra's niece, Reba Chakraborty, "we knew she was a wonderful person."
Nightly's mother, on the other hand, would have no part of the marriage, afraid that her daughter would suffer the same fate as her sister, who also married a Bengali. Nightly's aunt was abandoned by her husband and Nightly's mother had fostered a distrust against the whole Bengali race.
Eventually, however, Nightly's mother came to seek forgiveness from Bratendra, and there was a happy ending, after all.
Now, 51 years on, the couple still look at each other with a certain secret fondness. They are surrounded by their children and grandchildren and exude the confidence of people who know they have everything they could possibly need.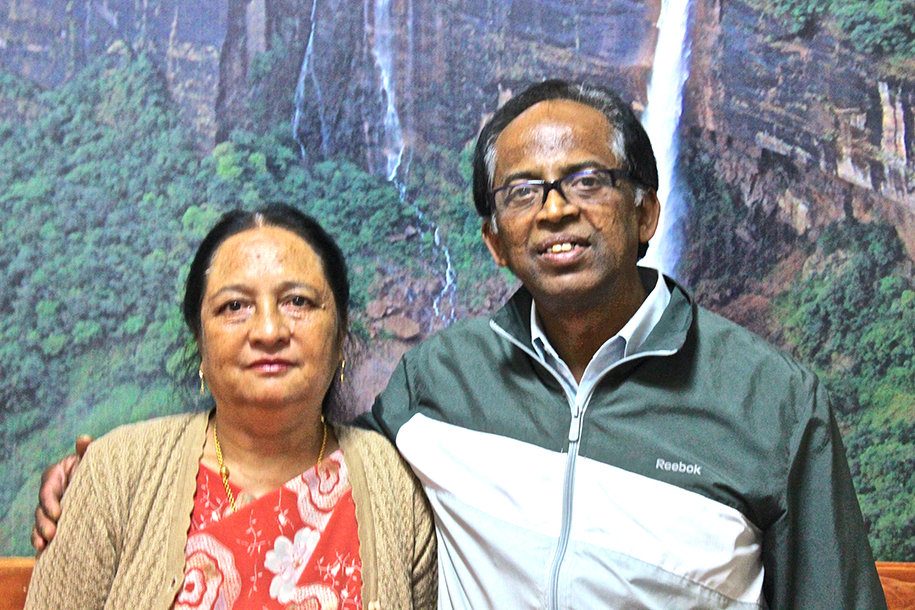 Surojit and Miracle 
"The children have their mother's last name," jokes Bratendra, "it makes life easier for them. But they all have Bengali first names because, they are my children too, after all."
It was a sudden jolt, that within all this harmony, we were still sitting amidst a land that is sorely divided. 'Tribals' and 'Non-tribals' are supposed to be at loggerheads, they don't have the same rights, but at the very heart of the whole issue, it may be argued that some still manage to challenge the politics of location.
So what is the real Shillong? Is it the violence and racial tension borne out of decades of strife, or is it mixed marriages and happy families borne from the ability of one human simply recognizing the value of his own species?