Ankiya-Naats are one-act plays performed in Assam, India often depicting Lord Krishna in myriad forms and stories. Samudra Kajal Saikia explores its medieval roots, its dramaturgy and finally investigates it as an art form and performing practice …
Bhaona, the performance tradition of Ankiya Naat is the oldest evidence of a mixed traditional, classical and folk performing practice containing all the elements and a complete structure of a total theater in India which has been uninterruptedly being performed for the last six hundred years. Though there are many performing traditions or traditional theater forms, most of them are focused on some particular performative elements: some are primarily based on dance, thus some are in singing narratives or visual extravaganzas. Ankiya Naat is a properly written play with all the elements that include characters, narrators (Sutradhars), dialogue in prose, lyrics etc. Likewise, the performance consists of orchestration, dance, chorus, recital, acting, use of make-up, masks and costumes.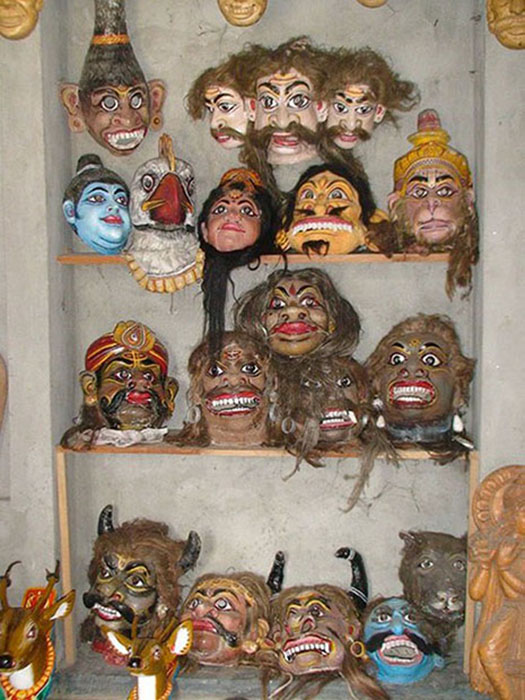 Masks from Majuli


Kapila Vatsayan sees a connection between Ankiya Naat and the classical Sanskrit plays in terms of dramaturgy. The term Ankiya Naat is derived from one Act ('Anka') and it was invented by Srimanta Sankardeva. During the fifteenth century, Sankardeva started the Eksharan Bhagavati Vaishnav Dharma. Sankardeva was not only a spiritual scholar but also a cultural activist. To establish the vaishnava bhakti movement in Assam, Sankardeva started writing plays in an artificial Assamese-Maithili language known as Brajavali, and concurrently launched a novel tradition of performance which was actually the amalgamation of his understanding of the other existing performative forms of those times. The geographic land of Assam was a cluster of diversified communities and tribes. To motivate the aboriginal people of the land in the fifteenth century, Sankardeva made a perfect blend of local art practices with the Pan-Indian classical traditions.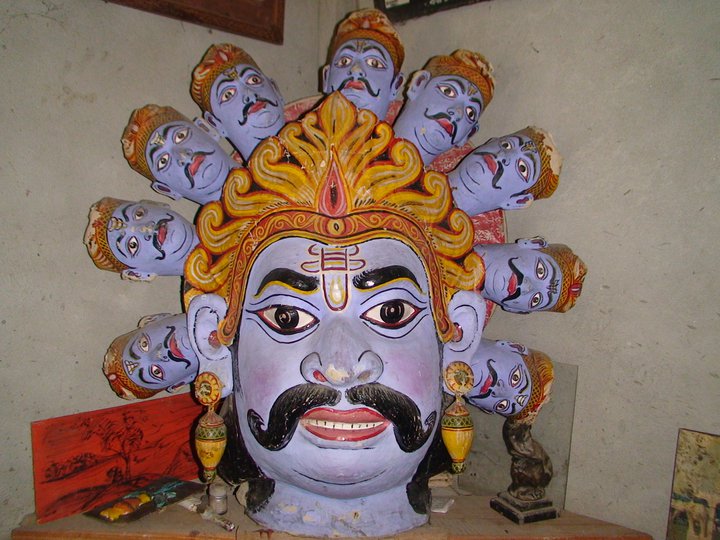 The Magnificent Ravana
 Archana Bhattacharjee writes that the performance of Ankia Naat starts with benediction in Sanskrit followed by a eulogy to God in Brajavali. The play usually starts with the prelude, or Purvaranga. Playing of the traditional percussion instruments is accompanied by the big cymbal by the singer and musician duo (Gayan, Bayan) in a group. The instruments are played with exaggerated hand movements and in two paces called Saru-Dhemali and Bor-Dhemali. After the prelude, the narrator, or Sutradhar, enters the stage and begins the actual performance. Ankia Naat was intended to be viewed by common folk in medieval Assam, majority of whom were expected to be illiterate. Thus, an explanation was included at every succeeding stage of the drama. The Sutradhar had to attend to various tasks viz. production, direction and delivered commentary of the entire drama.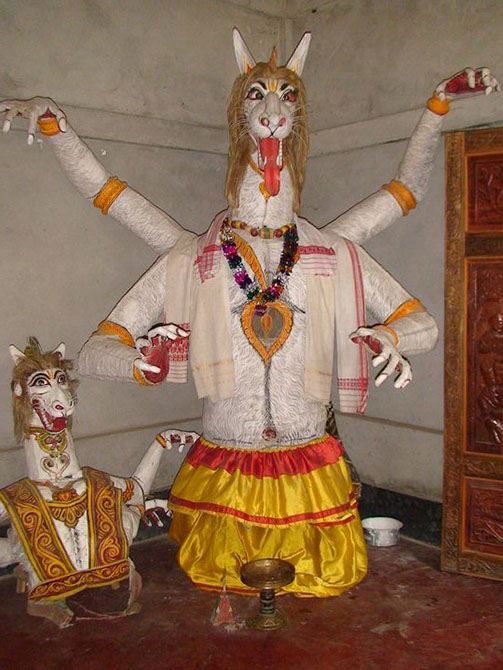 Masks from Majuli
 In some places the use of mask in Bhaona remained more vigorous. Among all the traditional characters, the blue coloured larger-than-life-sized character of Ravana, the antagonist in the epic Ramayana is distinct and eye-catching. Majuli, the largest river island in the world, situated in eastern part of Assam, Jorhat District is a cultural center of the Indian state of Assam that flourished its cultural identity during the neo-vaishnavism. The Samaguri Satra (Satra means Vaishnavite monastery) has a rich tradition of making masks for Bhaona. The ten-headed huge mask of Ravana from Samaguri Satra in Majuli is the most spectacular one. It is blue colored and the nine heads are arranged circularly around a much bigger one. The arrangement of the heads of Ravana has remained a nice subject for the creative minds in visual tradition in several parts of India through the ages. As the circular pattern is unique, the colour blue is also significant since that colour is usually kept for the Gods. Years ago, we interviewed Hemchandra Goswami, a traditional mask-maker from Majuli. He said that, Ravana had a Brahmin origin. Again, he was a great intellectual of the contemporary time, and that is why the blue colour is put on his face, just like the gods. In the traditional method of making, the mask is made up of cloths, mud and earth colours on a bamboo woven armature.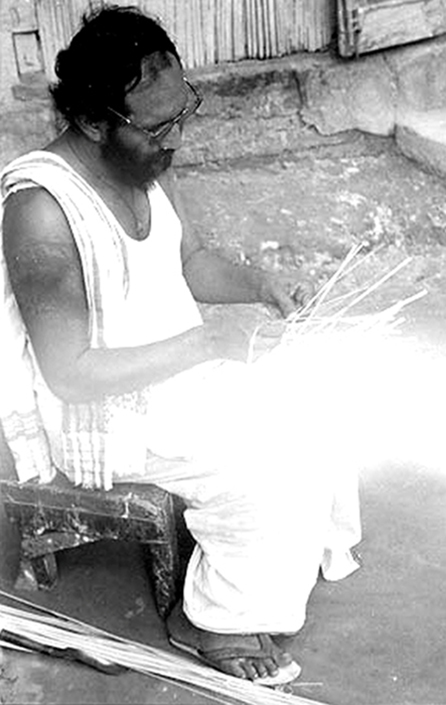 Hemchandra Goswami Making Mask in Majuli
However Bhaona is performed across the state of Assam, in the Namgharas (the congregational hall-cum-cultural space), and mostly it happens in the month of Bhada (August-September). This is an auspicious month in Assamese cultural life since it inhabits the death and birth anniversaries of the two great creative and intellectual minds- Srimanta Sankardeva and his disciple Madhavdeva. However, a village named Kamar Gaon in Biswanath Chariali, a subdivision of Sonitpur District on the north bank of the mighty Brahmaputra attracts audience with some unique mask making and performing techniques. The Bhaona practice in Kamar Gaon does not have a strong traditional connection with the ancient past in mask making. But it is due to some efforts of some local artists and participants that have made it an apparently reviving tradition over the    period of time. Kamar Gaon has its own mark in style and execution.
Ramen Hazarika with his Creations
 The mask and scenic design in Bhaona in Kamar Gaon achieved a new degree in the hands of a local artist named Haren Hazarika. Instead of following and being wedged in a certain traditional method Hazarika started applying some individual methods which are innovative and compelling as an independent artistic practice. In the village, the annual performance of Bhaona mostly adopts plays based on newly created or manipulated myths which are colloquially known as 'imaginary plays' and they depict stories with Krishna and characters from Mahabharata placed in some imaginary circumstances. They look like to be a part of the Mahabharata but they give immense scope of improvisation and creative imagination. Thus, Kamar Gaon Bhaona becomes an experimental hub for creative myths: juxtaposing the existent and non-existent epics. And under such circumstance, artists like Haren Hazarika take full liberty to explore his art with whatever material he gets. He keeps collecting materials according to their material quality and tries to make use of them whenever needed.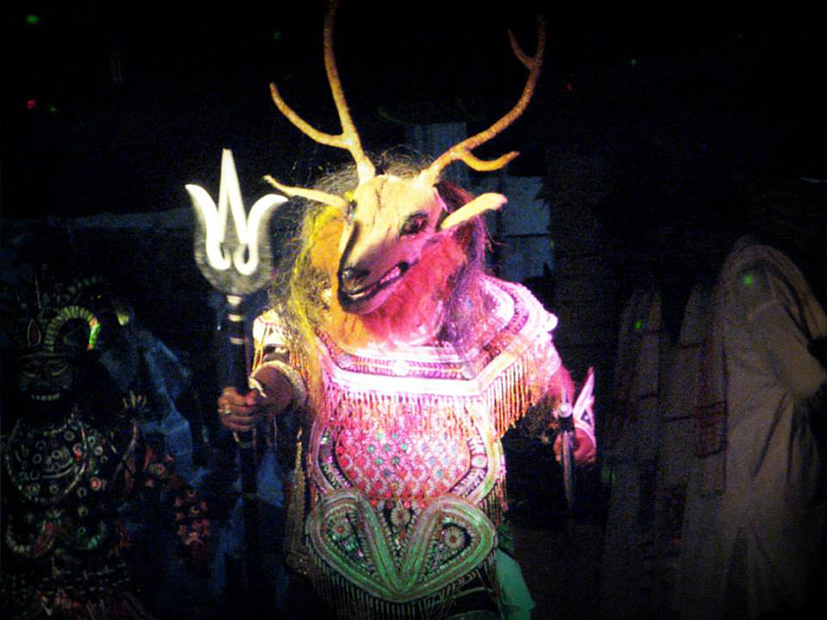 Masks from Kamar Gaon
 There are evidences where he made use of found objects, scrap materials and extremely unconventional things. Instead of repeating or copying a certain pattern, these masks are being designed according to the requirements of the play. The Baghasura Mask, made for the Bagh-Asura (tiger Demon) remained the most memorable mask in his numerous creations. For that he observed tigers for many days, studied cats and took hours to make it as naturalistic as possible.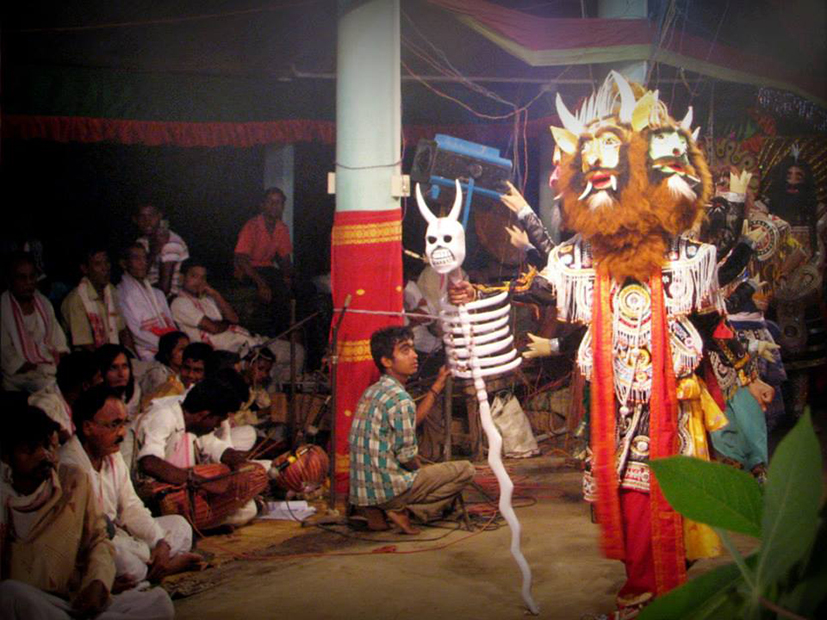 Masks from Kamar Gaon
 Moreover, Haren Hazarika himself is a talented actor and knows the use of the mask very well. In that way, the masks are not only decorative and visual objects, but they are  very much functional. Unfortunately in the last few years he is not particularly very active due to his poor health condition.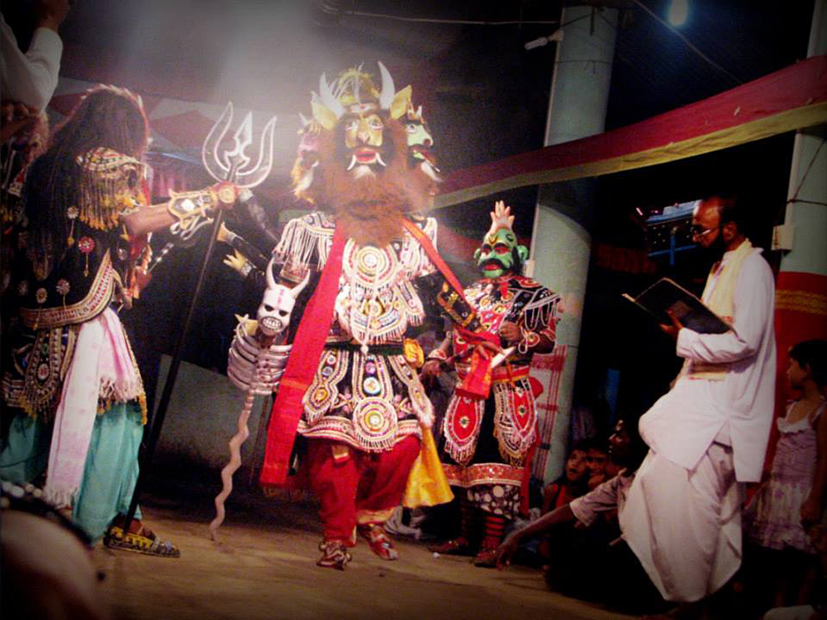 Masks from Kamar Gaon
Haren's brother Ramen Hazarika is also an equally talented artist who also makes wooden sculptures other than masks and artistry associated to Bhaona. He earned fame by making sculptures of Bhupen Hazarika and Lata Mangeshkar but is much appreciated for his role played in the Bhaona creative materials. Along with the masks, the artists' duo also designed many props, like weapons for the warriors and demons, and the mise-en-scene.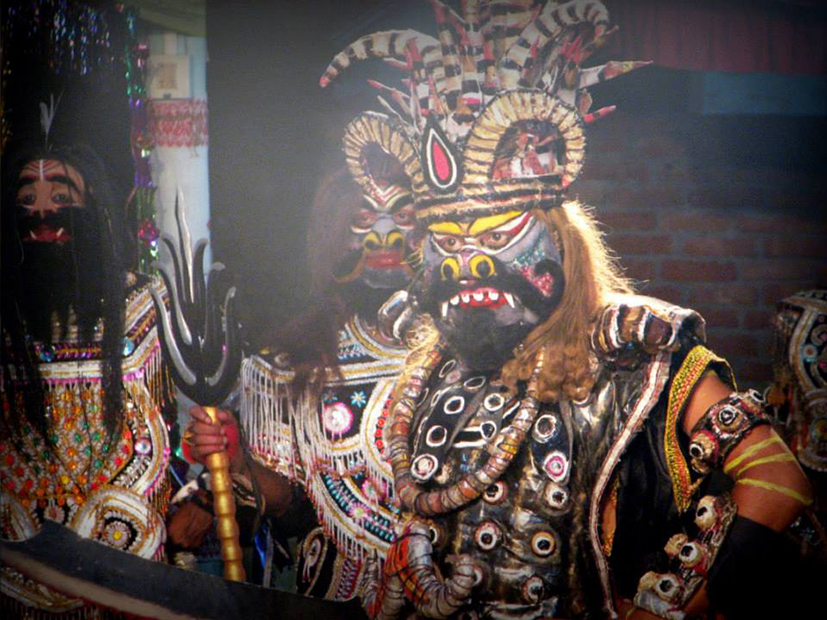 Masks from Kamar Gaon
 Ankiya Naat or Bhaona performances in Kamar Gaon, Biswanath Chariali has made its own mark in style and execution. Every year on the death centenary of Madhavdev, Bhojan Bihar, a short duration play by Madhavdev is played which describes the merrymaking of child-Krishna with his friends. Then a two-nights-long full-fledged Bhaona or Ankiya Naat is being performed at Kamar Gaon Namghar. As the performance of Bhojan Bihar is a unique tradition of this particular village that has been happening for around 200 years without any pause, the other Bhaona plays are also unique in performance for the vital role of mask, make-up and other artistry.
Crafts from Kamar Gaon
 We can see the seeds of some kind of new traditions, as well as some other dimensions of popular culture at a time. In the process of interrogating the critical areas of conceptualising the performance-oriented craft-making tradition in contemporary times, one needs to have a look at them.

'The featured image is a scene from the play Bhojan Bihar'.