Madhuja Mukherjee relates to us the story of Miss Ruby Myers who was not only the biggest star in 1920s but was the substance of myth and lore …
Let us resume our stories of Miss Cinemawali with Miss Ruby Myers. Ruby Myers' (1907-1983) screen name was Sulochana (and later also Sulochana Sr.). Myers' standing as the biggest star of the 1920s is now part of urban lore. Apparently, she was the highest paid actor of the period, and her salary was higher than the Governor of Bombay.[1]Myers was associated with Kohinoor and Imperial Film Co., and was popularly known as both Queen of Romance and Jungle Queen.[2] Often she was paired with D. Billimoria, one of the most popular male actors of the period. Some of Myers' most successful films were Veer Bala (1925), Cinema ki Rani (1925),Typist Girl (1926), Wildcat of Bombay (1927), Indira B.A. (1929) etc.; as well, she acted in the 'talking' recreations of her own hits, for instance, in Indira M.A. (1934), Anarkali (1935), Bombai ki Billi (1936) and so on.



In her second film Cinema ki Rani, Myers played the role of a 'film star'. The film presented the glamorous lifestyles of the studio stars, and exploited the autobiographical ambiguities of a star's life and their flamboyant images. The film projected the image of the 'actress' as someone who is modern, cosmopolitan and sensational. According to Neepa Majumdar (2010), Myers "performed the fantasies and transgressions associated with a film star." Cinema Ki Rani represented Myers both as a daughter of a prostitute as well as a woman who is in an adulterous relation with a suicidal painter. Such screen depictions were in effect reworking mass perceptions regarding the 'film star' and their enigmatic lifestyles, along with the taboos associated with cinema. The quasi-biographical references, however, ought to be read as a process through which star-images are constructed. It illustrates the complex relationship between a range of private and public information, as well as filmic and extra-textual information/rumours. Therefore, (according to Majumdar, 2010: 94) Myers' identity may be located at this "intersection of modernity, technology, and fantasies of upward social mobility" as it focused on subjects like sexual permissiveness, "fashion, and imaging technologies". [3]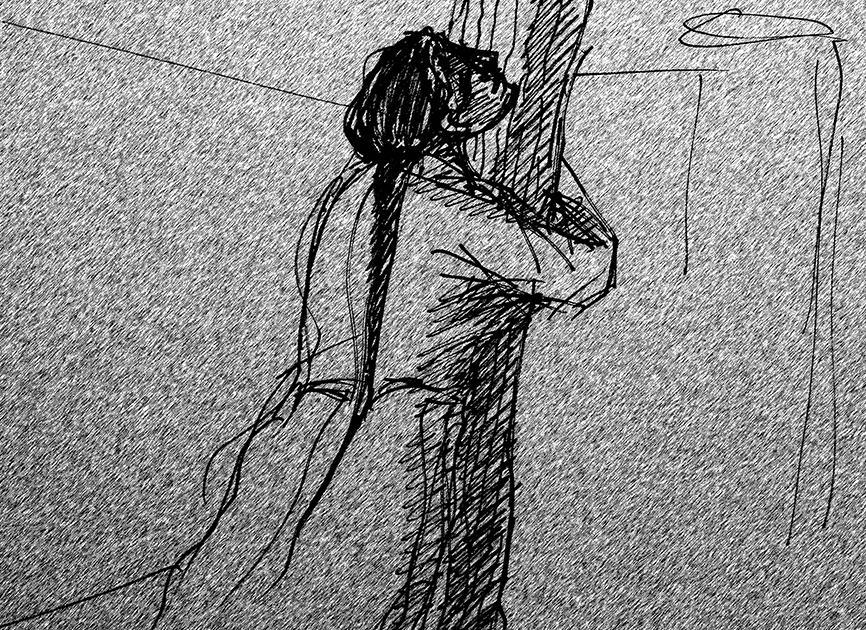 Sulochana in Anarkali (1929) by Madhuja Mukherjee from Whispers of a Wild Cat, graphic narrative (forthcoming).
Kaushik Bhaumik writes about these enigmatic images and opines that:[4]
Sulochana was thus pushing the envelope of the cosmopolitanism espoused by the industry that had begun with her career with Kohinoor. Her films tended to project an overall atmosphere of glamour and an aura of the fashionable, both of which conveyed a sense of the daring and of the experimental. Dress and on-screen lifestyle fed off each other to underscore the persona of a modern working woman fully in charge of her life and at ease in the public sphere and this could be as attractive for men as it was for women.
In fact, in Bombai ki Billi (a remake of her own silent film Wildcat of Bombay), she performed eight roles, including male characters. Her role in the film is an ambiguous one. Furthermore, the booklet/songbook of the film presented the plot as following: [5]
Bombay is ringing with the daring adventures of the "Wild Cat" who had meanwhile sprung up in a den of robbers on the farthest outskirts of the town. Her exploits lay in spending money over the poor and needy which she took from the rich in various ways.
Whist the police was puzzled, having failed repeatedly to get at the "Cat" a smart officer – Suresh – determined to arrest her but his attempts proved futile at any rate for a long time…
The Wild cat and her many disguises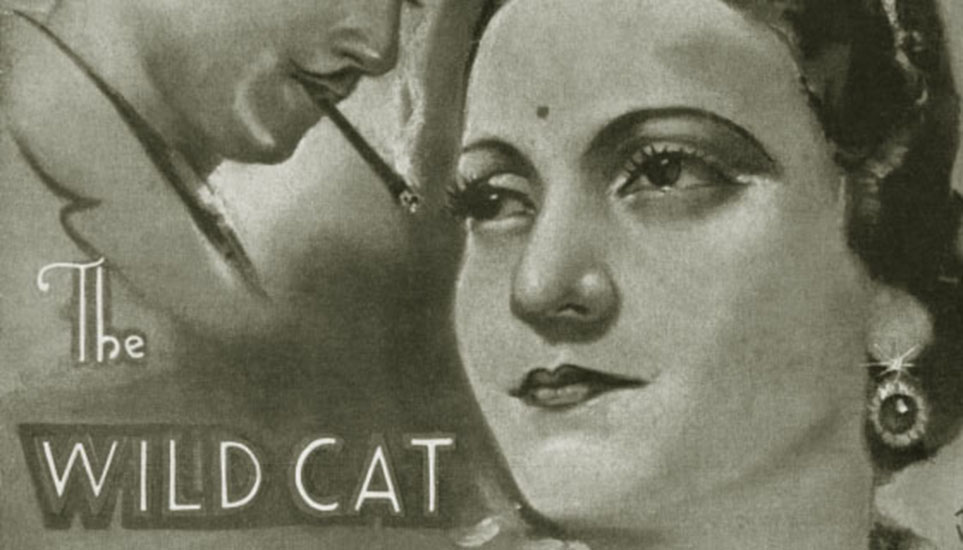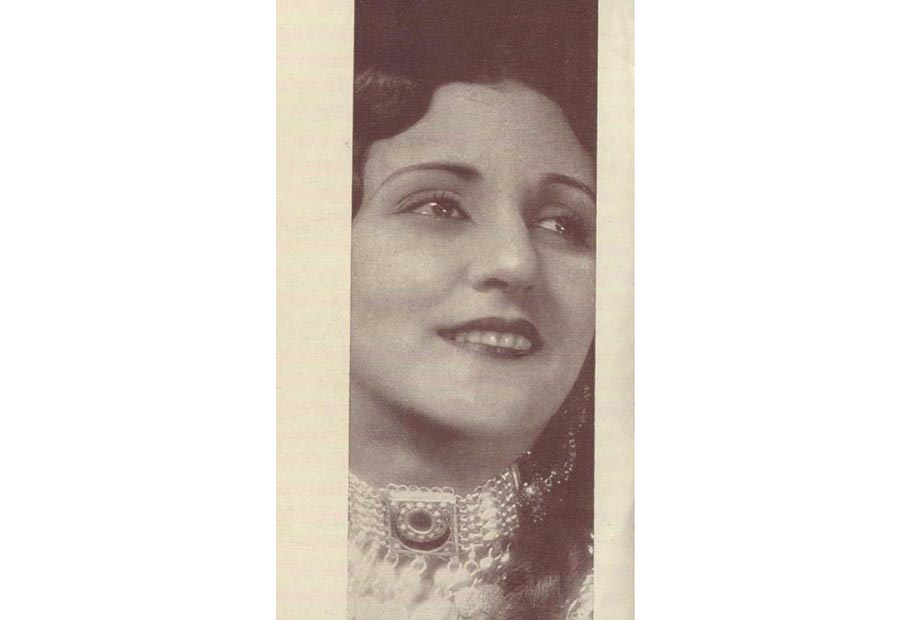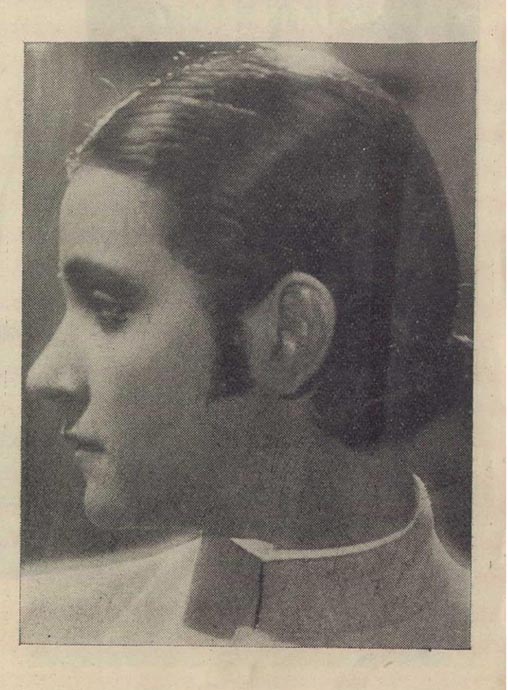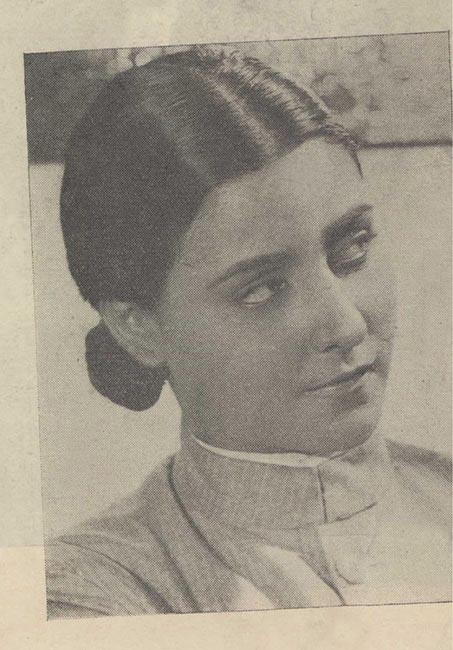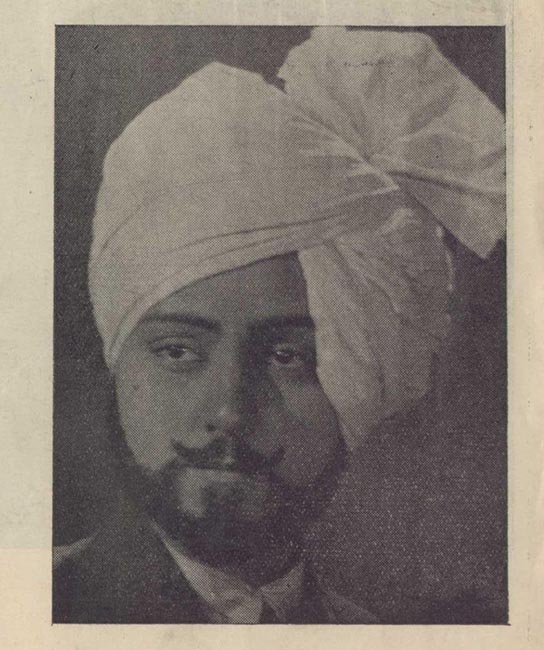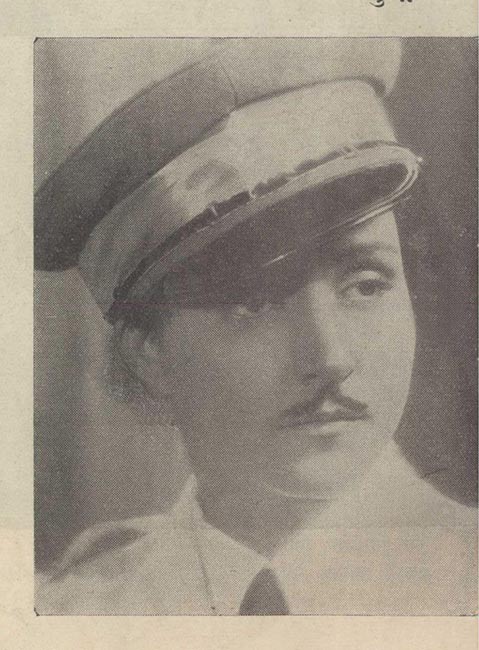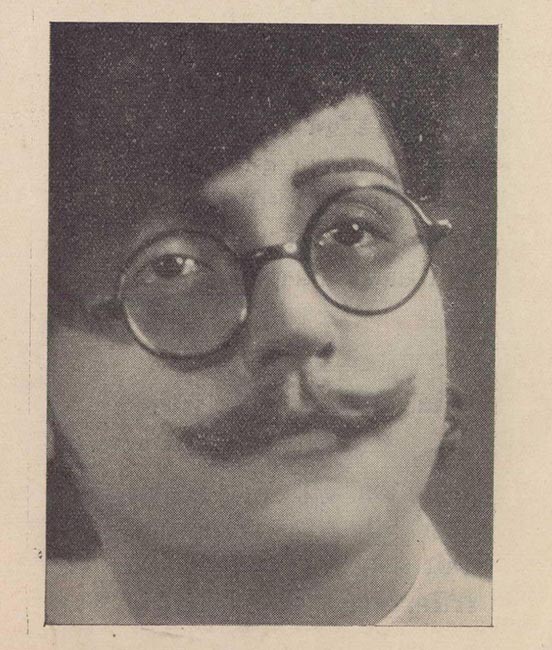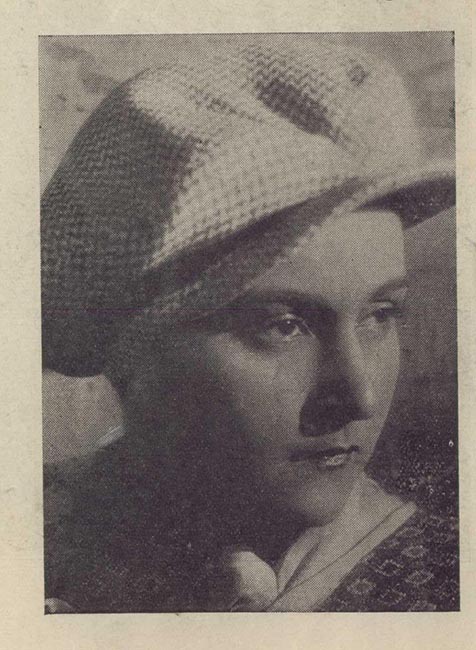 The mysteriousness of the characters she performed was often reflected in her interviews as well. For instance, about her own profession, Ruby Myers said the following in 1927 (to the Indian Cinematograph Committee):[6]
Q. How long have you been in the profession?
A. Two years.
Q. And had you any training before you entered the profession?
A. No, I had no training.
Q. What were you doing before you entered the profession–if you don't mind my putting the question?
A. I was in the telephone office.
However, with films named Telephone ni Taruni (1926), and Wild Cat of Bombay (1927), one wonders who the 'real' Ruby Myers was!  Moreover, in the same interview she expressed her critical views regarding contemporary films. For example, Ruby Myers replied accordingly to the pointed questions hurled at her:
Chairman: What do you think should be done to make (the film industry) more attractive?
A. Well, I think if we were financed properly, if there were some technical improvements and if there were some way of getting fairly good stories – if we could get stories like Tagore's and some others, [italics mine] which I know would appeal to the educated classes – our stories at present are very poor. We want better stories either taken from the ancient books or good modern authors.
Q. You want more literary effort in that direction?
A. Yes. And, of course, the studios are quite good in the present conditions. That is, things being what they are, they are quite good.
Q. Although you would like to have them improved, you would not insist on it at the present stage? What I want to know really is whether for the educated classes and also for girls of good family the conditions in the studios are sufficiently attractive?
A. Well, what I see of them they are very respectable company. They behave very well and they work very well.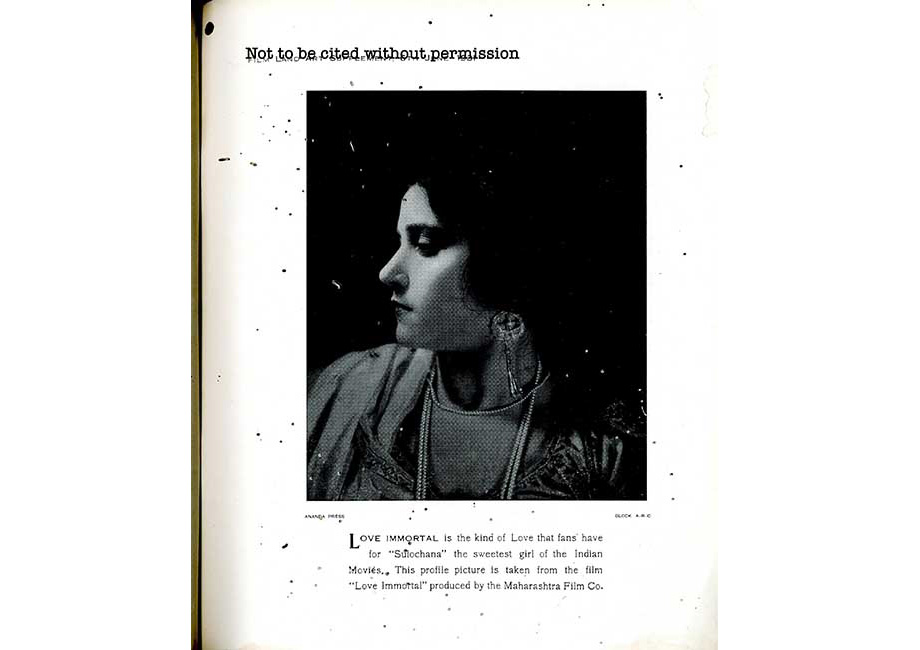 From our archives
In addition, the iconic image of Sulochana as 'Cinema ki Rani' refigures through the hyperbolic writings and the 'purple prose' of the fan letters. Indeed, even a producer like JHB Wadia recalled how, "there was the magnetism in her eyes- nay, seduction" (from Majumdar, 2010: 100). Moreover, Dushyant Chaubey insisted that, "not only that she is lovely, she is charming, she is delicate and active. Her every limb speaks…." Chaubey also writes about the viewer's excitement in seeing her. He says, "[s]ometimes she comes smiling, sometimes sobbing – and the effect is terrible…."  Majumdar (2010) also discusses how V.S. Nigam mentions a scene from Madhuri (1932), and describes her emerging, "glistening from behind a waterfall" with "soft, delicate limbs and sculpted body." In effect, Myers became enormously popular particularly because she was pushing the idea of the cosmopolitanism. Her films demonstrated the exuberance of 1930s Bombay, which comprised glamour, fashion, speed, and new spaces of pleasure. Her chiffon saris and sleeveless blouses, along with her expensive Chevrolet, produced the persona of a modern girl who was fully in control of her own life and is at ease in the public sphere.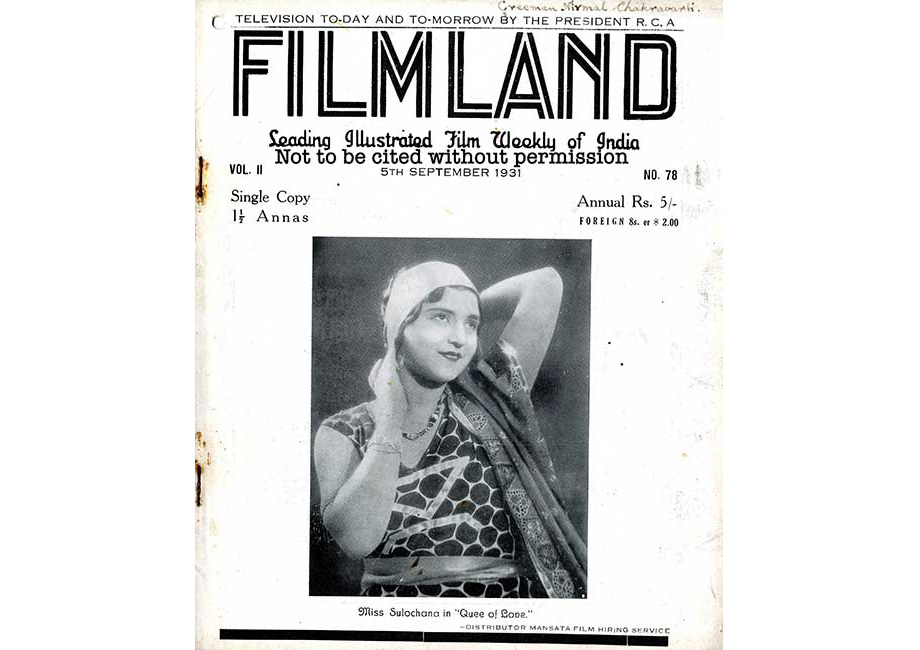 The face of an early (super) star
It is clear – from the publicity material of Indira M.A. (published in Filmland, Puja issue, 1934) – that, Sulochona's powerful persona underwent a decisive transformation, and was eventually made to appear far more demure and acceptable. Nevertheless, even at a later point, her real life dynamism was seemingly in place. For example, in 1953, Ruby Myers narrated the following to Patricia Pereira: [7]
Audience reaction was always important to me and I used to visit the theatres, dress­ed in a burkha and actually sit in the lowest seats and work up to the higher classes– thus seeing one of my films as often as three times only to find out what the filmgoers thought of my portrayal and how far I had fulfilled my aim and obligation to entertain them.
Since 1950s, Sulochona performed a range of character roles, albeit, somewhat matronly ones. For instance, she played the strict head nurse in Dil apna aur preet parai (1960), Ruby Aunty in Julie (1975) and a nun in Dostana (1980). Such transfigurations, indeed, illustrate broader complications of the film industry and its networks, and also show how many matured (female) actors get limited in stereotypical roles.
  _______________________________________________________________________________________________________________