January 2017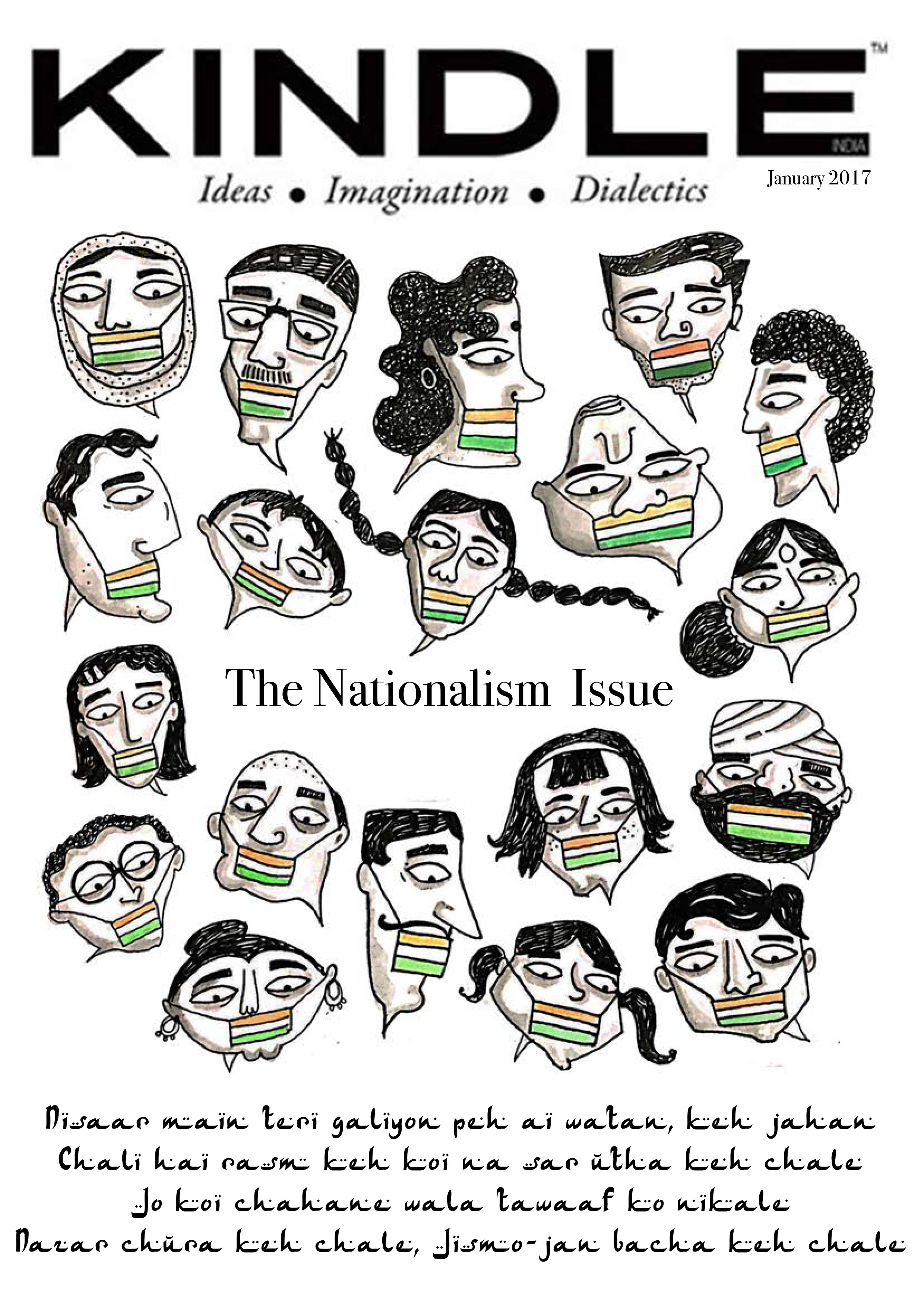 Following the Supreme Court verdict of playing the National Anthem before film-screenings, Kindle Magazine spoke to opinion makers about their views on the decision. In the context of several implementations introduced by the government over the past year, the debate on nationalism is now raging in the country. The January 2017 issue follows the rise of ultra-nationalism in India.
Cover Story
Indeed, the rose is a rose is a rose. And the anthem is an anthem is an anthem. So, why did we lose the plot, asks Amit Sengupta? So who killed the innocence and dream of the nation-state? The imagined community?
Also Read
Politics has to be fought with politics itself. The Right has to be fought by the Left, says Bishwadeep Mitra.
Any progressive criticism of the nation's archaic, discriminatory or irrational policies is vehemently denounced as "anti-national" and, hence, treacherous in nature. As such, Kant's vision of man's progress based on rational thinking, unfettered by the "dogmas and formulas" of bygone ages, appears to be an idealistic far cry from the contemporary reality, says Aritra Mukherjee.
To talk in terms of these grand narratives of nationalism- Hindutva versus secular, civic versus ethnic, is to miss the point, says Utsa Mukherjee.
The Supreme Court's verdict of playing the national anthem before every film screening incited Kindle Magazine to interrogate dignitaries and collect opions from social media on the same.
Imposing patriotism is not a solution to develop a feeling of nationalism. In fact, it might just backfire, says Sonal Agarwal.
Nationalism was violent then, it is violent now. It has always been like that. What has changed is that the Modi government has cleverly masked the violence and presented it as a way of living, says Soumabrata Chatterjee.
A large number of those who perform the various rituals associated with Muharram are the ones who are in most cases very poor and the downtrodden. A sense of empathy and the ability to relate with those who were historically oppressed gives them a sense of empowerment. says Ayesha Begum.
The face of global politics is changing one country at a time and it all seems to be shifting towards the right, says Pratiti Ganatra.
The anxiety of an already-marginalised people, set apart not only by sexuality but also the accompanying issues of religion, caste and class, has found expression by placating. And the results have been troubling, says Rushati Mukherjee as she tries takes a look at how India's LGBTQ community reconciles the national with the personal.
Is it fair to call every person booked under terrorism charges, a "deshdrohi, terrorist or mastermind"? Bilal Kuchay tells the story of Mohammad Amir Khan, whose life was ruined after being wrongfully arrested under terrorism charges and sent to jail for 14 years.